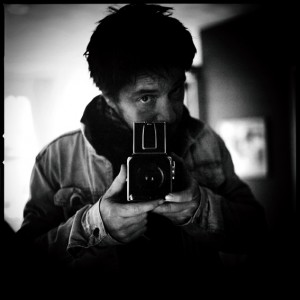 Born in France, 1975 (Le Mans). Graduated from art school(photography) Rennes, Fr (1996), co-founder of artists group "L'appartement" in Arles (1997-2002). Art Handler for Les Rencontres d'Arles (1996-2002). Assistant light-engineer, Museum Modern Art Centre G.Pompidou, Paris 2000. Assistant light designer for Renzo Piano retrospective in Berlin 2000. Stage manager for theater/dance companies . Currently based in Amsterdam. Art Handler for Foam, De Pont …
The photographs of Fabien Gruau are built up with different layers. Based on a classical approach (documentary for most of the series), captured with a middle format camera, it seems that poetry is never too far away when you meet his images.
From this combination reality/fiction, he can create singular stories as his series "My street" or « Portraits ». You become introduced, in a documentary styled way, to the life and variety of the people in a neighborhood in Amsterdam, or by collaborate with other artists into a street performance (ZUR, France). You feel the "nostalgia" in his interactive large-scale image-based performances accompanied with music « Les Aires ».
Beside of this specific approach , in his latest series called « Ruins », his work has taken a new turn.
This series is no less poetic than his previous ones, but the form of his photography has changed, its language is moving to a mediated collaged imagery. "Ruins" creates an abstraction within the reality.
His research reflect basically the authenticity, the self and in general the beauty that he can catch from what people and the environment can offer to his look.
1997-07#L'appartement, Rencontres d'Arles, France
1998-10#De l'air, festival du vent, Calvi, France
1999-07#L'appartement, Rencontres d'Arles, France
2000-02#Solo, espace Van Gogh, Arles, France
2002-07#L'appartement, Rencontres d'Arles, France
2009-09#Soi, galerie des cavistes, Avignon, France
2010-09#Générale, fête de l'humanité, Bordeaux, France
2011-04#Solo, Plantage Docklaan, Amsterdam, Nederland
2012-06#Les Aires, Oerol festival, Nederland
2012-04#Les Aires, Laren, Nederland
2013-06#Les Aires, Bremen, Germany
2013-09#Les Aires, Mol, Belgium
2013-07#Les Aires, Port St Louis du Rhone, France
2014-06#Les Aires, Domaine de Chamarande, centre d'art contemporain, France
2014-08#Les Aires, Duizen in het park, Rotterdam, Nederland
2014-04#Les Aires, festival des mouettes, St Brieu, France
2017-07#Museum de Fundatie – Zomerexpo "Water"